SCR's Mangrove Reforestation Program
Mangroves play an essential part in the dynamic of coral reef ecosystems, costal protection and local sustainability.
More than one third of the world's mangroves area has been destroyed by human development /impact.
Save Coral Reefs takes part in this global challenge to protect mangroves through local awareness and replanting programs. Join us!
Ecology

Mangroves are commonly found in most subtropical regions of the world. In Asia,
Africa,America and Oceania mangrove forests are usually located nearby coral reefs.There exist a strong dynamic /interaction between each ecosystem.
Mangrove swamps protect coastal areas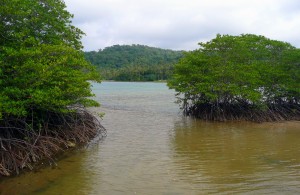 from erosion, storm surge and tsunamis by dissipating wave energy threw the mangrove's massive root system.
The unique ecosystem found in the complex mesh of mangrove root offers a shelter region for young organisms. Mangrove plantations host several commercially important species of fish and crustaceans.
Despite restoration efforts, the human pressure has removed over half of the world's mangroves in recent times.
Exploitation & Conservation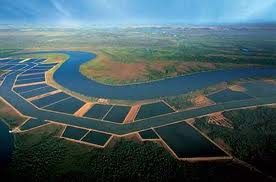 Through the last several decades of the twentieth century, approximately 35% of mangrove area was lost and since 1980 one fifth of the world's mangrove ecosystems have disappeared.
Today the benefits of mangroves and its' threat are widely known, and so conservation efforts are becoming more popular.
Reforestation & Cleaning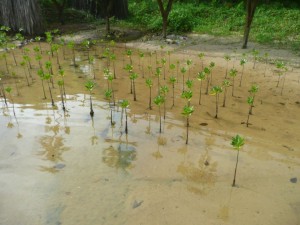 Throughout awareness programs with the local schools and consulting the local fishermen, Save Coral Reefs exposes the benefits of mangroves' fragile and threatened ecosystem. 
Save Coral Reefs takes action in protecting the mangrove by leading a reforestation and mangrove cleaning program.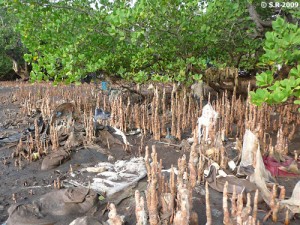 By this way, Save Coral Reefs hopes to preserve this unique and important ecosystem.
The shelter provided by the roots mesh of mangrove forests will increase the coral fish population sustaining the local fisheries.
Furthermore, the wave dissipating effect of the mangrove will protect these same communities from beach erosion.
Join us!!!
If you to want to take part in this sustainable program, please feel free to join Save Coral Reefs' Mangrove Reforestation Program. By Becomimg a Member of Save Coral Reefs organisation you will be informed and invited to join us for a Mangrove Resforestation or Cleaning event.
Images courtesy of
http://www.mangrove.or.jp/isme/atlas_eng.html
http://wwf.panda.org/what_we_do/footprint/agriculture/aquaculture.cfm
http://plongee-mayotte.over-blog.com/article-32269478.html