Expansion of Koh Tao Coral Park Project

After the success of Koh Tao's Restoration Project, Save Coral Reefs is willing to carry out an Expansion Project in Haad Sai Daeng Bay.
The more artificial reefs there are the more efficient will be the coral propagation and fish increase. The Expansion Project will assure the local economy and sustain marine biodiversity.
If you to want take part in this successful challenge, join us!!! Become an active member of Save Coral Reefs Organization and support financially the Expansion Project…
Abstract

You should know that, the greater an artificial reef is, the more important will be the amount of fish refuges. Therefore, the more effective will be the artificial reef towards its environment.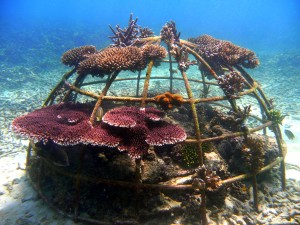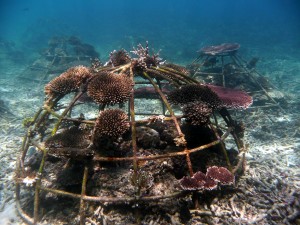 Fully aware of this natural law, our wish is to expand the existing Coral Park to revitalize the entire Haad Sai Daeng Bay (see Part: draft completed).

We estimated that for the Coral Park to have a significant impact in terms of increased biomass and local biodiversity, over a hundred metal structures should be implemented across the Haad Sai Daeng Bay. Since this bay was ranked as a Marine Protected Area, once produced, this set will be a reef sanctuary for marine life.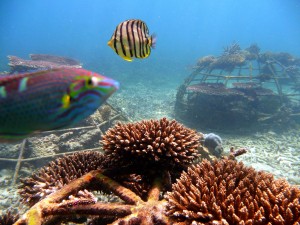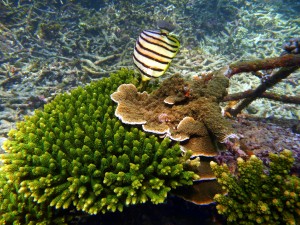 If no change in local governance or natural disaster takes place, a 100 structures of metal and 30 tons of rock structures are sufficient to recreate a true coral reef ecosystem in the Haad Sai Daeng Bay.

Benefits from the Expansion Project

- To more effectively fight against the degradation of the marine environment in Koh Tao
- Complete restoration of coral reef in the Haad Sai Daeng Bay creating an ecological sanctuary for many species of fish, corals and other marine organisms to repopulate Koh Tao's crystal clear waters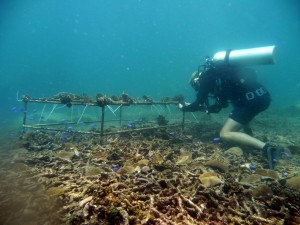 - To educate and inform people of Koh Tao and tourists on the preservation of coral reef ecosystems
- May in the future ease human pressure on surrounding natural reefs while educating visitors about the rules to follow when swimming over a coral reef that may be natural or artificial.


 
Let's get started!!!
To launch the Expansion of Koh Tao Coral Park  Project, Save Coral Reefs needs you!!!
If you want to take part in this sustainable and ambitious challenge, Become a Member of the Save Coral Reefs organization. You will be able to help us by Volunteering and/or Donating for the Project!